Timo langpap - Piano, Composer, Band Leader
Timo Langpap is a pianist, producer, and educator based in Freiburg, Germany.
In 2019 he founded the band Common Transmissions during his master's at the Musikhochschule Freiburg. In the last few years, while working with different artists, producing a few singers, and playing in such bands as Liner Notes, Triaz, No-Mads Way, and Celine Huber, he found a way to express himself through his music and his sound, and is still searching for new ways to make different types of music work together.
Timo is a passionate educator who teaches in various music schools and programs. He develops new teaching forms to help students find their inner voice and express themselves through music.
Nick Schneider - Guitar
Nick Schneider is a musician, songwriter and producer from Strasbourg, France. He studied popular music (BA) in Freiburg, Germany and has played guitar with different formations such as Liner Notes, Party Like Gatsby, The Bangers Project and Dennis Montgomery III. He is active as a producer as part of the trio MONARQs and for artists like FOFO, LONDE and Mots Passants, working under his own brand 10HUNTERSTREET Productions.
Oliver Schneider - Bass
Oliver Schneider is a bass player, songwriter and record producer from Strasbourg, France.

His stylistical diversity has led him to play with a multitude of artists such as american gospel musician Dennis Montgomery III, jazz legend Gary Barone and many more. Oliver's musical journey brought him to perform all over Europe including an appearance at the world renowned «Jazz in Marciac » festival in France.

He is also working behind the scenes as part of french producer trio MONARQs and is writing and producing songs with a variety of upcoming artists.
Paul-Aaron Wolf - Drums
Paul is a drummer, composer and producer based in Freiburg, South Germany.
During his music studies in Freiburg he discovered his passion for Hip-Hop and experimental music. For Paul music is a reflection of the present, and musicians have the role of pioneers that move art forward.
Currently Paul is composing his first self-titled experimental record JZZLTC and a LoFi Hip-Hop production under the name slowolf. Also, he works as a producer for the French / German rap duo Zweierpasch from Strasbourg / Freiburg and teaches drums, songwriting and producing in Konstanz and Freiburg.
In the past he worked with swiss singer / songwriter Céline Huber among others, studied at the Pop & Jazz Conservatory Helsinki and performed at the Jaffa Jazz Festival in Tel Aviv (2018).
New music is to be expected from his Neo Soul group Liner Notes, his experimental format Paul-Aaron Wolf and the LoFi Hip-Hop format slowolf.
Silas Benz - Drums, Efx
Silas Benz is a musician and producer from Freiburg, Germany. He studied drumming and producing in Freiburg, Hamburg and Helsinki.

Silas participates in musical projects of various genres. He's constantly on the lookout for new sonic and rhythmic experiences, which he allows to flow into his compositions. He breaks pop music structures with electronic sound aesthetics and rather unusual sounds. Most recently, his work has taken him to Great Britain, Sweden and Israel.
Blanche Türei - Violin
Blanche Türei grew up in Munich and studied violin in Cologne, Freiburg and Szeged in Hungary. The violin is her friend, she accompanies her through life, through mountains and valleys. She has a penchant for discovering music, making music with people, experimenting with a loop-station and teaching. For her, music is the opportunity to find herself in artistic, social and human processes.


Katharina Jäckle – Violin
The violinist Katharina Jäckle, born in Düsseldorf, grew up in an international environment like Honk Kong and Belgium. She did her bachelor's at Staatliche Hochschule für Musik in Trossingen with Prof. Christian Ostertag. Later she played as a trainee in the Gürzenich Orchester Köln
at the Opera House of Köln for one year. In 2019 she successfully completed master's in Music Orchestra at Hochschule für Musik Freiburg. She continued with a second master's in Music Education, also in Freiburg, and teaches since 2017 in different schools around Freiburg.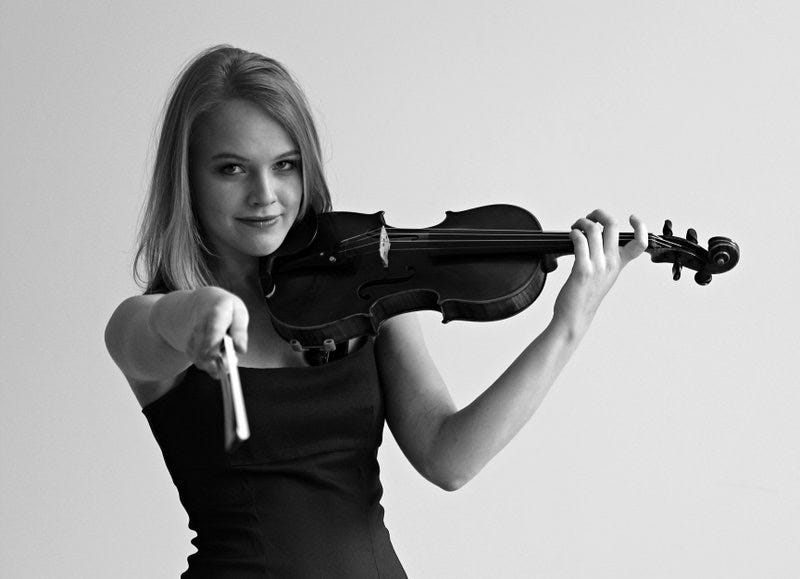 Beatiz Picas Magalhães - Cello
Born in Porto, Portugal within a musical family, Beatriz has always had an intimate contact with music. Besides playing the classical cello, she participated in many projects where different arts were combined (music, dance, theater, video) and projects where the music had a social or pedagogical impact. In the last few years she has been exploring cello as an instrument in different ways. In Portugal, she played with
bands of different styles, in 2018 she worked together with the composer João Carlos Pinto on his new piece for cello, electronics, performance and video. In 2019 she was part of the Residence for Folk Music "Ethno Portugal ".
As a composer, she writes for different contexts, especially children songs, one of them already recorded.
Her love for creativity made her change her studies direction. After studying Cello Pedagogy in Mainz, she switched to Elementary Music Pedagogy in Freiburg.
Felix schrade - sax, efx
Felix turned his back on formal music after his teens and re-emerged years later from noise, drone and free improvisation with an extended
vocabulary for his saxophones. He currently plays the lead alto sax in the quartet "WORB". Compensating his cheery disposition, he searches for dark sounds by feedbacking effects into each other and calling it art.
Rebecca Chazarenc - Vocals
Rebecca is a singer and songwriter from Freiburg, South Germany. She studies Jazz and classical music in Hamburg and Freiburg.
Common transmissions reflects the way she describes her passion about music. In collaboration with professionals, dancers and performance artists, but also with students in school she seeks the creation of new music and progression in related art forms.
In 2018 she wrote songs with the Neo-Soul Band Kunyaza in Hamburg, currently she is studying Jazz-Vocals in Freiburg with Filippa Gojo.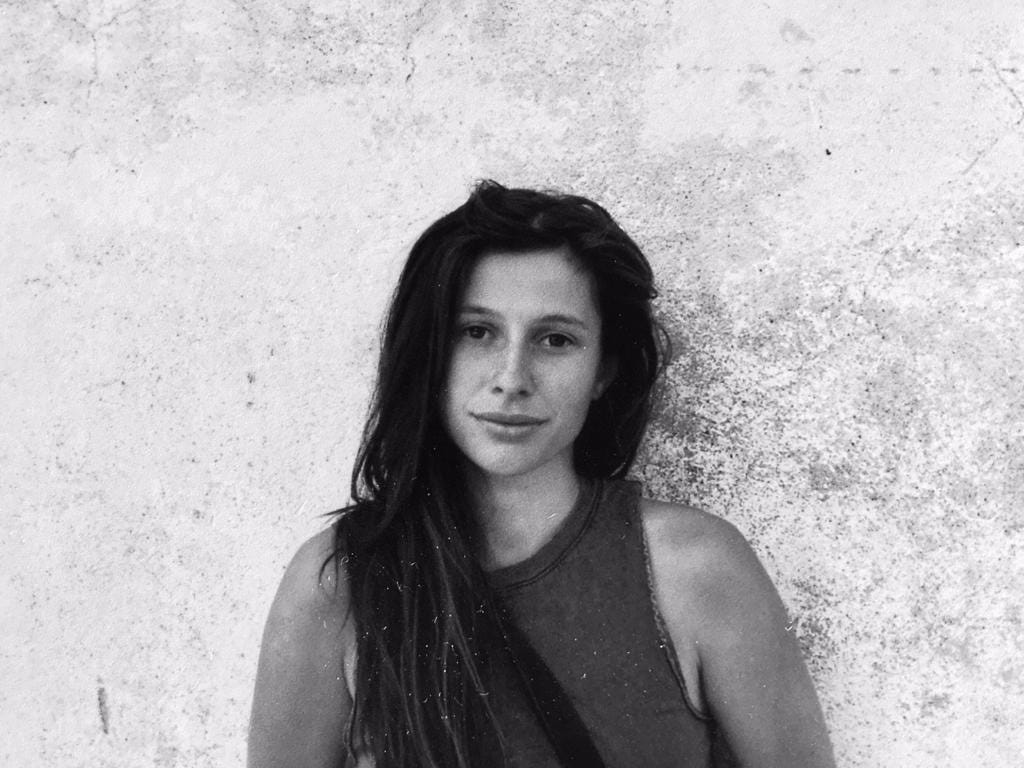 Veronika Mannhardt - Vocals
Veronika is a jazz singer and songwriter from Freiburg i.Br where she finished her studies (popular music) in 2019. She soon found the love for jazz and it's diversity. Ever since she's been part of the Bossa Nova Band "bossinha do norte" and has played with the gipsy jazz ensemble "le Hot Club de Freiburg". In 2019 she founded the record label "Mosaik Records" with Julia Mikulec and Linda Stark. Her main focus lies on own compositions which contain influences of folk, pop and jazz. She usually plays her own music by herself with an acoustic guitar. Her sound can be described as melancholic, smooth and a little edgy.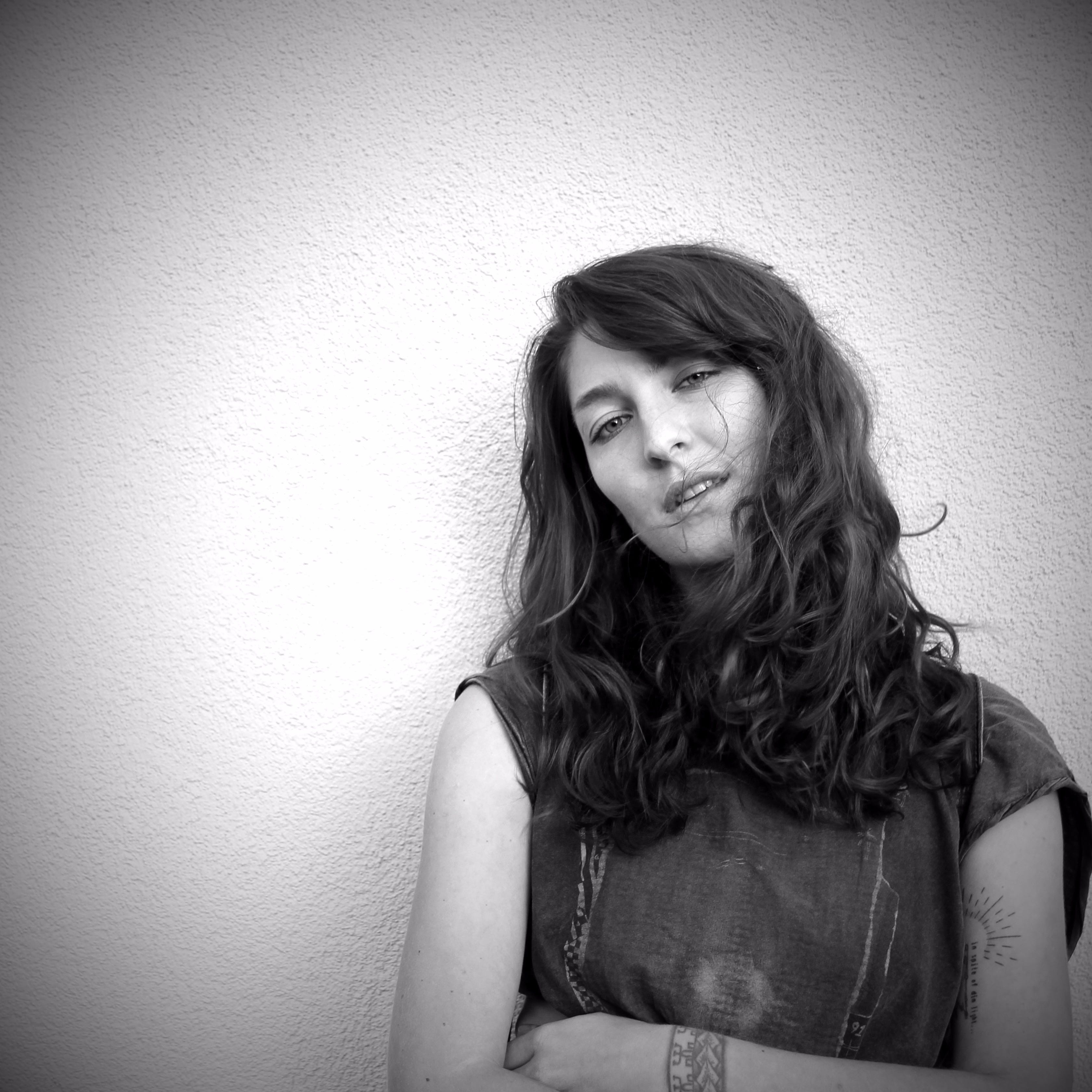 Juweel - Rap, Vocals
JUWEEL is a rapper and singer based in Berlin. Growing up bilingually, she writes her lyrics in French and German.
She did her bachelor degree in popular music in Freiburg.
She gained experience in different genres such as soul, jazz, pop and hiphop. During her studies she was part of various band projects such as "Charifasoul", a ten-piece funk band from Basel, and "Liner Notes", whose music is mainly influenced by hiphop and jazz. In 2019, Liner Notes released their first album "The Struggle and the Love". This was followed by a number of concerts and a tour.
Her musical style solidified during the production of her bachelor's degree in the form of an album. She began to produce her own beats and to write meaningful texts in which she processes experiences, addresses socially critical topics or celebrates life to the fullest. Through the close collaboration with various artists such as P.dasoul, DOP, Cee, CHABEZO, Palas and the OnlyNiceGuys, she constantly gains inspiration for her music.